The first immersive exhibition of the world-famous works of the legendary Mexican artist Frida Kahlo – Viva Frida Kahlo – opened in Vienna.
Visitors journey and become part of the artist's world thanks to technologies, music, installations, special constructions, and decorations.
The exposition consists of several zones: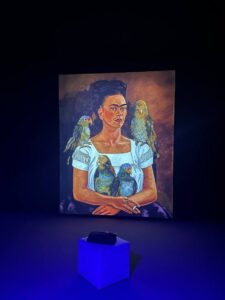 – The first is an introduction to the virtual reality of La Casa Azul (or the "blue house"), where the inner courtyard with a pyramid is one of the main stages of the exhibition. The decoration of the "pyramid" and props allow you to find yourself in the house of Frida Kahlo in Coyoacan, where the young artist, bedridden after an accident, begins to paint.
– In the second demonstration hall, the audience is immersed in the 1920s – 1940s in the colorful paintings of Frida Kahlo. The works, which in the original seem almost tiny, come to life with the help of projectors and are projected on walls up to 24 meters long and the floor.